The School was aimed primarily to PhD students, postdocs, and other young scientists wishing to broaden and deepen their knowledge or to identify new research opportunities.
A strong emphasis was put on basic concepts with several classes reviewing classical mechanics and physics. In order to keep the lectures as tutorial as possible, the 20 academic lecturers gave 2-3 talks.
Here is a feedback from 46 participants (out of 65) :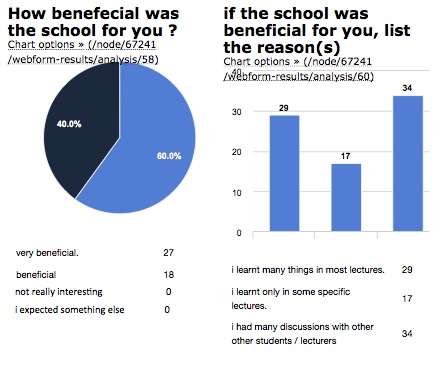 The school included
Academic talks
Basics mechanics/physics
Material failure and friction
Plasticity
Complex materials and ``extreme mechanics''
Program
Classes started on August 7th in the morning and end on August 17th.
Participants were expected to reach Ajaccio or Cargèse by August 6th,
and left Cargèse on the 18th morning.
Here is a pdf of the Program

Here is the feedback from students regarding the program :